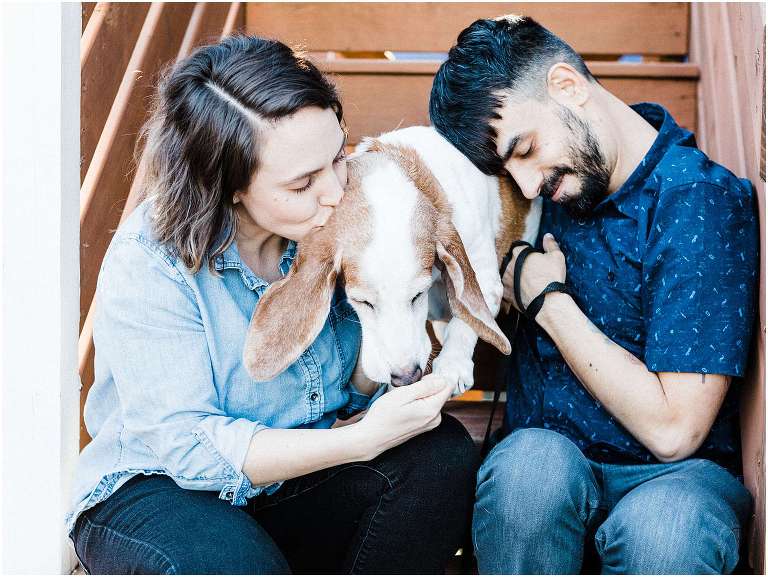 Celebrating Sasha's Life⎥Pet Family Session, Austin Texas
Home is where the dog is. In Greg and Zoe's case, home is Sasha, the charming, adorable and spirited hound mix. It's no secret that Aaron and I love Moxy, I mean, we are those crazy, devoted parents to our dog, Moxy. Clearly, he is the center of our universe. Most people who don't have a pet look at us like we're nuts, but Greg and Zoe love their Sasha like we love our Moxy.
Greg e-mailed me their story about Sasha. He adopted sweet Sasha when she was a little pup, Greg was hooked the moment he saw Sasha. She's been by his side for the last fourteen years. From finishing undergrad to getting married to attending medical school, Sasha has been by Greg's side for it all.
But time is catching up to sweet Sasha, and she's getting older, and with age comes health problems. The doctors told Greg and Zoe that Sasha's time was almost ending so Greg and Zoe wanted portraits of Sasha. They wanted to book me for a pet family session and this was an honor I wouldn't turn down for anything.
Sasha is a senior dog, but boy, let me tell ya something, this girl has the soul of a puppy. We took her to the park for a walk, and she was all over the place. She gobbled up all the doggy treats, she sniffed every blade of grass, and wiggled her tail zealously. Sasha stood on her back legs and performed just about every trick in the book.
In addition to Sasha, Greg and Zoe are parents to their cat Peanut who followed us all the way to the park. I'm told she does every time they take Sasha out for a walk. It was a whole family affair at the park. It was a gorgeous sunny day, not a single cloud in sight. Would you believe it? The day after their session it rained for nearly an entire week. Talk about perfect timing, eh?
Sasha reminded me that it's so important to live life every day with an open-heart and an open soul. I hope that I continue to embrace every moment, every opportunity, every chance with the same curiosity that Sasha displayed with each sniff. I absolutely adored this session, and I feel privileged for the opportunity to meet Sasha and capture her beautiful and energetic soul.
Before I go, I want to give one last update for Zoe and Greg: Sasha's health improved which means they get to spend a few more years with their precious darling pet Sasha! What better news than that?